Introducing our Artist Series, a new line of Custom Shop takes on our favorite Keeley pedals!
Each of the Artist Series pedals will feature artwork from their associated artists, as well as an Artist Series bottom print.
A portion of the sales of the Artist Series will go towards helping artists navigate these uncertain times.
The 2nd installment of Celisse Monterey pedals will begin shipping on or before 06-21-2021.

Monterey Celisse Artist Series Edition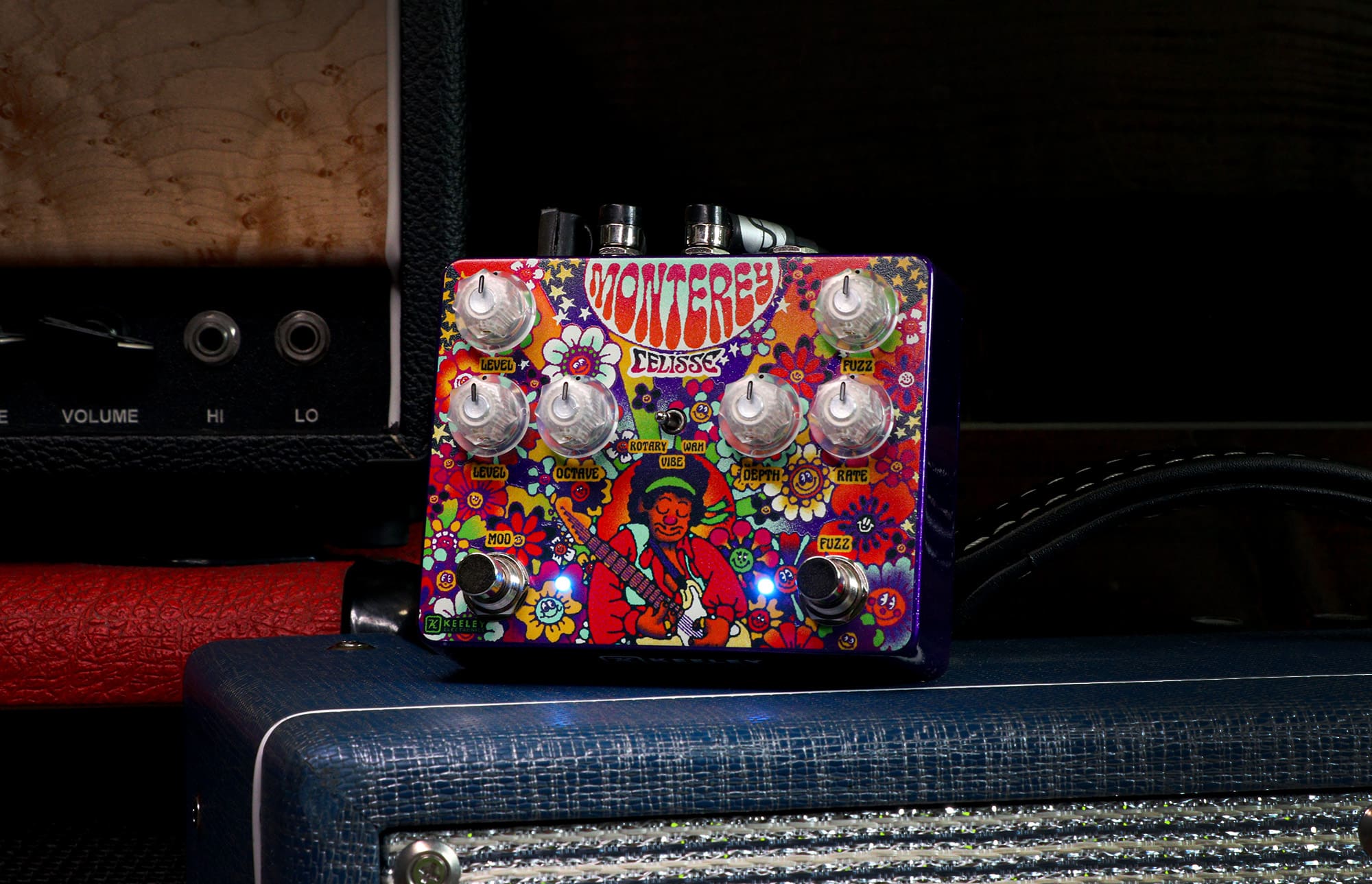 The Axis for a Bold New Tone
With the Keeley Monterey Workstation you take one step back in time and two steps forward.  The Monterey is a surrealistic envelope of neo-vintage effects.  It combines classic sounds with new interpretations to create a modern timbre and audio spectrum for guitarists.
The Keeley Monterey Rotary Fuzz Vibe has a vintage fuzz, rotary speaker, vibe, harmonic and auto wah, an octave up or octave down, as well an expression control to allow you to create a rich array of new and newer sounds.
There are two channels on the Monterey Rotary Fuzz Vibe, and these can be configured to give you five different sounds.
The right stomp switch activates the fuzz channel.  The fuzz channel has been designed to give you a rich, full, classic two-transistor fuzz sound that is accurate yet has a touch of smoothness added.  It is very responsive and dynamic.  It plays well in any position on a Strat or Les Paul style guitar.  At the heart of the fuzz are vintage Fairchild Semiconductor transistors.  These moderate gain transistors offer the perfect fuzz tone and do not have the temperamental temperature related problems that germanium devices exhibit, while still giving you incredible tone.
The modulation channel is where the fun really starts.  The Monterey Rotary Fuzz Vibe offers an Octave effect with both the Vibe and Wah sounds.  With those two sounds you can either have Octave Up, Octave Down, or No Octave.
In the Center Position of the Octave Control you have NO octave up or down.  If you turn the Octave Control up (or clockwise), you have an increasing octave up sound.  As you turn the Octave Control down, you have an increasing amount of octave down sound added.  Again, if you do not want an octave effect added, simply set the Octave Control to the center position.
The Monterey Rotary Fuzz Vibe features a very rich and deep vibe sound.  The "Kool Vibe" setting is perfect for getting complex phaser-like sounds.  It combines phasing and tremolo at key frequencies to give you incredible depth and rhythm.  Not only does it match the frequency response of a vibe, it simulates the unique pulsing of a photo-cell based effect.  You can add the Octave to the "Kool Vibe" for an amazing doubling effect or for an incredibly deep synth bass type sound.
The "Les Rotary" sound in the Monterey Fuzz Vibe is both very accurate and surprisingly new sounding.  Like the original cabinet, this simulation joins both the lower drum and the upper horn into a rich, dimensional effect that generates an unmistakable chorus and tremolo soundscape.  Not only is the cabinet itself simulated with very short reverberated reflections that offer a doubling effect, the Doppler Effect provides a soothing chorused sound that is clean and ethereal.  The Octave Control in the Rotary cabinet simulation controls the volume of the horn or tweeter sounds.  It does not produce an octave effect here.  This allows you to get a very chorus-like effect with ample high-end detail when simulating a "Les Rotary" style cabinet.  Set the Rate OFF for no rotation, turn the Fuzz on, and the Depth and Octave controls give you a wonderful speaker cabinet simulation.  It's fuzz with tonal control like you've never had before!  Perfect for matching any size of power amp with the pedal's fuzz to give you anything from dark overdrive to hard, edgy, squared fuzz!
The "Harmonic Wah" section combines several more new sounds from Keeley in the Monterey Rotary Fuzz Vibe.  It is a fixed or cocked wah sound, an auto wah, a harmonic/tremolo wah, and even a regular foot-controlled wah when you add an expression pedal.  With the Depth Control turned all of the way down/off you are in the Wah Mode.  The Wah Mode gives you control over the frequency you boost by adjusting the Rate Control.  If you have an expression pedal connected, it becomes a regular Wah Pedal.  Turn the Depth control up a slight amount and the Monterey becomes an Auto Wah.  In the Auto Wah mode, your pick attack and strength creates an envelope filter sound.  After the noon/center position on the Depth Control, you have the new Harmonic Wah.  It is like the harmonic tremolo on a brown face amp, but the frequencies are centered around a wah pedal instead.  It's ideal for players who like the rhythmic back-and-forth rocking sound of a wah pedal.
Add any expression pedal controller to the EXP input on the back and you have control over the Rate of the "Les Rotary" and "Kool Vibe" settings.  In the "Harmonic Wah" setting, it controls the frequencies.
Want more sounds?  Well OK, turn the unit over and take the bottom off.  There is a tiny DIP Switch that allows you to change the order of the Fuzz and Modulation effects!  Yes, you can get some crazy noise by putting fuzz after modulation effects, but it works!  And works well at giving you insane tones that are thick and full.  Let your ears gaze at the strangeness.  Alien amplitudes of gain and fuzz.  Endlessly creative.
The Monterey does not come with an expression pedal, as many players already have one they can use.  We do offer the M-Audio expression pedal.  It works well and is very reasonable.  The Monterey is not battery powered.  You will need a standard 9V 100mA supply, negative tip.
The Monterey Rotary Fuzz Vibe comes in 12 different graphic designs.  Just like music which can be surprisingly rewarding, you'll be surprised with a design.  We will not be able to select a specific pattern that you may want.  It is wonderfully random.  They are hand made with the intention of becoming your new favorite instrument.
Free Limited-Edition 'Pedal Wizardry' Sticker with purchase of a 2nd-Run Celisse Monterey!
The Monterey Celisse Artist Series Edition features an illustration by Lia Sued C. The art was recreated using Keeley's UV printers over a deep purple sparkle powder coated case.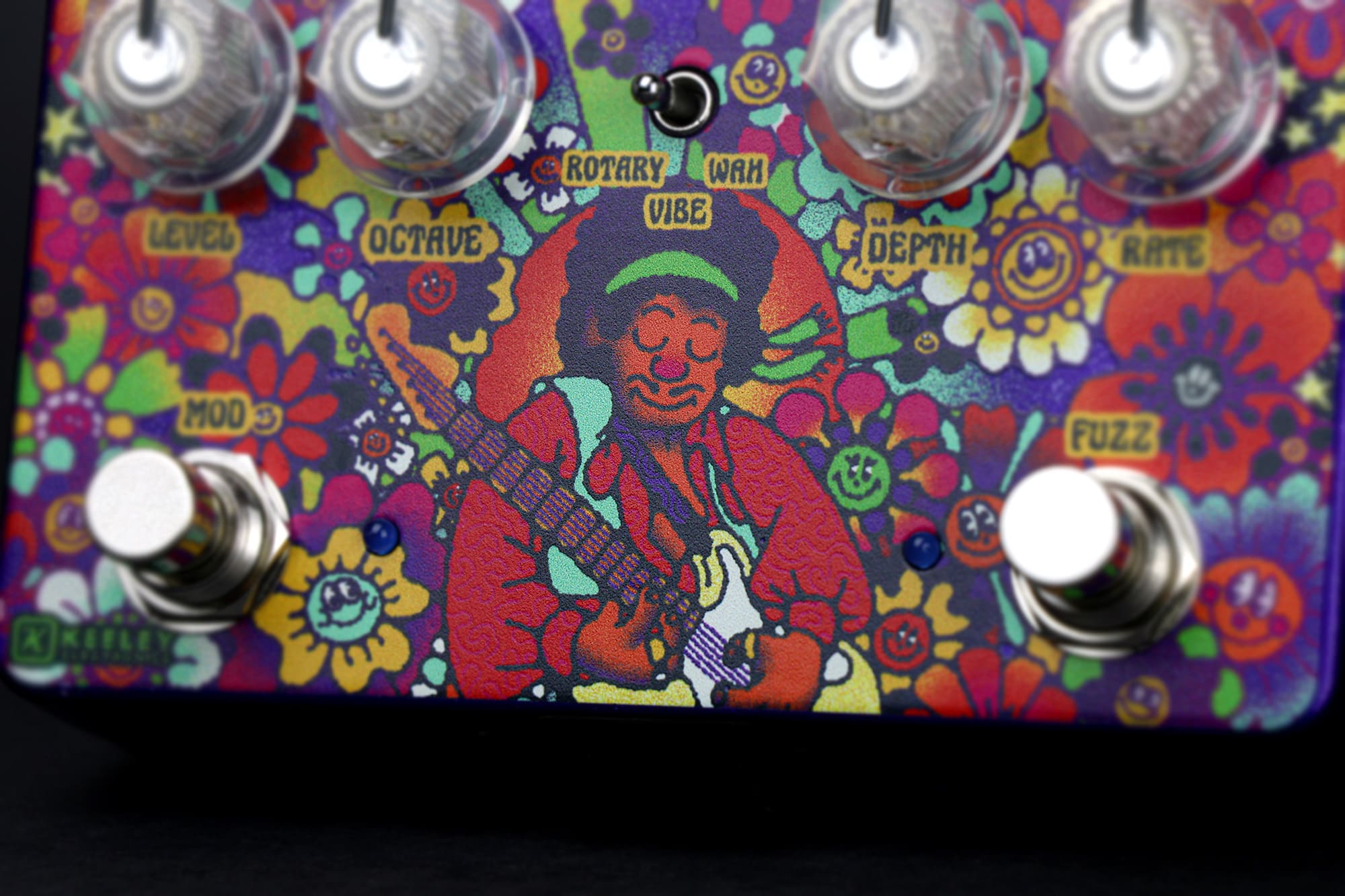 About Celisse Henderson:
Celisse is a multitalented artist whose work spans myriad artistic disciplines and inspires all those who bear witness. She laid the roots of her career as a performer in Broadway's Godspell and Wicked, and on television in 30 Rock and Rescue Me, among others. Since then, Celisse has established herself as a highly sought-after musician, supporting artists ranging from Lizzo (Saturday Night Live) to Jon Batiste (The Late Show with Stephen Colbert, Tiny Desk Concert) to Tiana Major9 (Afropunk). She is a member of Ghosts of the Forest with Trey Anastasio and has played alongside music legends Melissa Ethridge (Apollo Theatre) and Mariah Carey (Beacon Theatre). She has lent her musical talents to the choral arrangements for America's Got Talent and is currently commissioned as composer and orchestrator of a brand-new Contemporary Opera for Catapult Opera. As a solo artist, Celisse played a 2019 headlining tour across Russia and is set to release a full-length album in the Fall of 2021. Her original music, powered by her soulful voice, is hard-rocking and blues-tinged, with hooks that are both infectious and incredibly moving.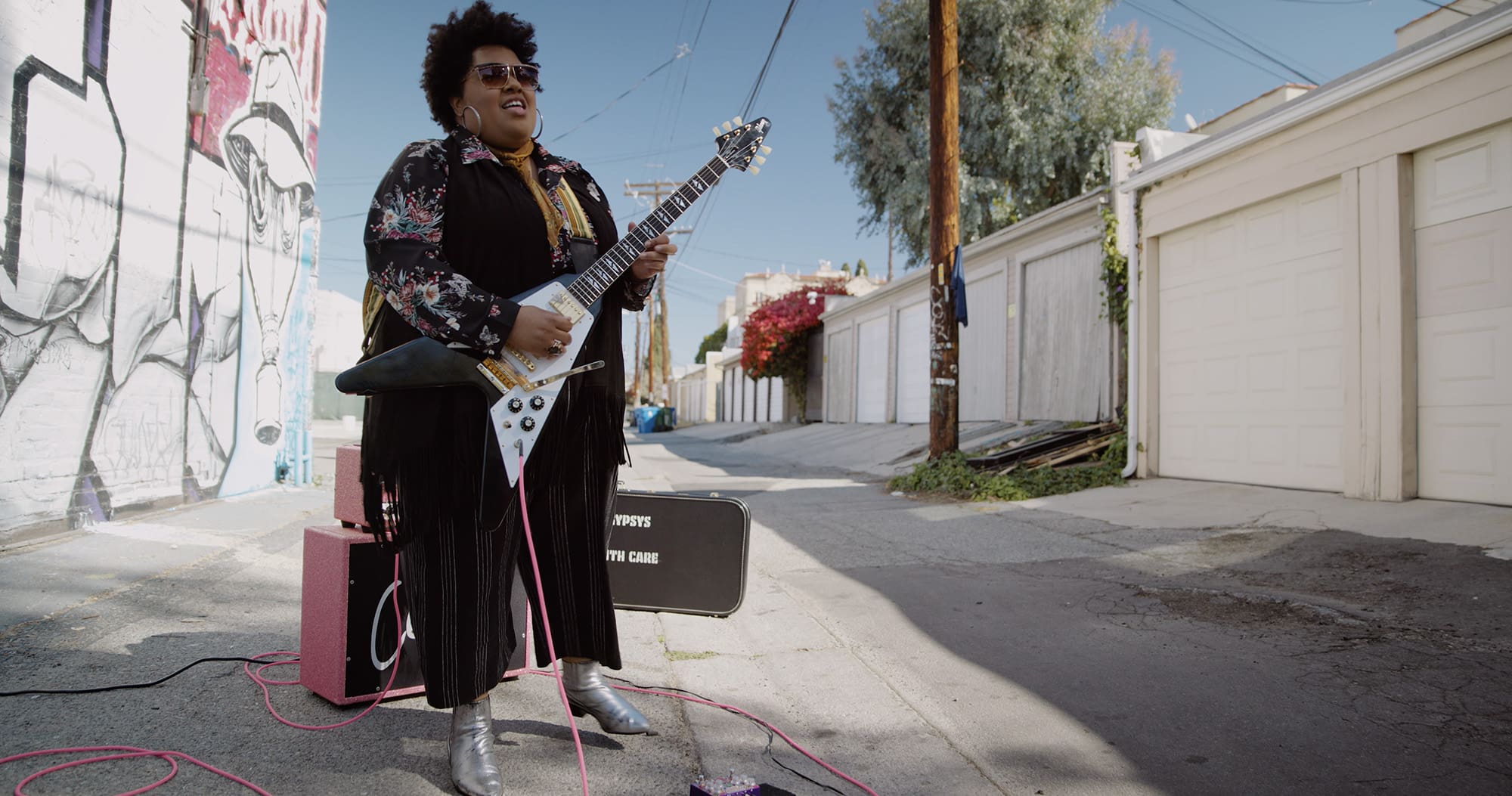 Keeley Electronics has meant a lot to me for many years. The amount of gigs I have played where the Magnetic Echo, Neutrino, and the Aurora Reverb were the central sounds of my board are countless. However, of all the Keeley Electronics pedals I have owned, nothing has been used more than my Monterey Pedal! It is quite literally Jimi in a box. There are Rotary, Vibe and Wah sounds, with octave up/down options that can be controlled with an expression pedal on the left, AND a thick, syrupy FUZZ that will cut through any mix on the right. I have recorded and gigged for years with it and I am still blown away by how versatile it is! Even turning the rate down with the depth at noon in the Rotary setting for a dimension filled phaser effect is a fantastic sound! 
When given the chance to bring my own personalized artwork to this pedal, I wanted something that not only represents how incredibly vibrant and colorful Jimi's music is, but also speaks to what a joyful experience it is to play through this pedal. Lia Sued is the incredibe graphic designer who brought this pedal to life, and Patrick Churvis is the visionary director who is responsible for the Hendrix inspired video we created.
Robert Keeley is the first brand ambassador who reached out to me on social media years ago to tell me he loved what I was doing. He is the first person who was willing to offer support to me as an artist, when I had very few notable credits to my name. It is an incredibly full circle moment to have this collaboration come to life, as I couldn't think of a better company to do a piece of signature gear with. I hope this pedal brings you as much joy as it has brought me. – Celisse Henderson
Celisse's Video:
Video Credits: Patrick Churvis – Director • Andrew Paslay – Camera Operator • Gryphon Russell- Production Assistant
More Videos: