That Pedal Show's D&M Drive 'Altered History' Modded Custom Shop Edition
Begins shipping on or before 04.05.2022
That Pedal
The D&M Drive is a combination of Drive and Boost, it's two pedals in one.  First, the D&M high-voltage Boost side is designed to impart the perfect tone on any amp that needs to be pushed.  Think of it as a midrange clarifier, it makes your guitar and midrange really stand out.  As you kick it up a notch this boost morphs your tone into singing gold.  A powerful and smoothly saturated midrange voice appears.
The Drive side offers everything you would want in a powerful gain stage.  From flat honest overdrive that is perfect for any set of chords to searing hot lead work with tons of sustain.  The Drive side is also the perfect counterpoint to the Boost.  Not only does each side of the pedal provide rewarding guitar tones, they can be stacked together for an out-of-this-world experience.  The order switching toggle allows you to select which side of the pedal comes first.
Altered History
I wanted to make a few changes, mods if you will, but I didn't really want to change it that much, after all, it is an amazing tone machine as it stands. I simply wanted to reduce the output volume taper of the Boost (Klone) side and I also wanted to nudge the maximum gain of the Drive (OC.D.) upwards. All that is different with the Altered History D&M Drives, is that the Boost has an A-taper pot for the volume, and the drive side has a 1Meg gain control instead of a 500K potentiometer. Largely the sounds will be identical, just at different settings on the pedal. The artwork is of Ereshkigal, queen of the dark or underworld.  The lettering and Keeley logo are in an imagined cuneiform font. These special D&Ms have been given the complete Keeley Custom Shop treatment, including UV-printed backplates that include the serial number. The knobs are high quality aluminum. The artwork is designed to look like ancient ruins, or at least circa 2000's boutique pedal era silkscreen.
Each 'Altered History' D&M Drive is hand-modded and signed (on the inside) by Robert Keeley.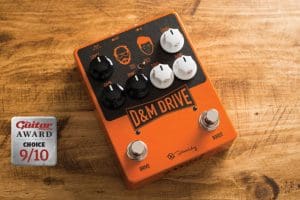 Guitar.com Gear of the Year Award: https://guitar.com/features/best-effects-pedal/
MusicRadar review: https://www.musicradar.com/reviews/keeley-dm-drive-and-boost
Demo Videos:
The D&M Drive made Andy's Top 5 of 2017 list!
Instructions: