Fuzz Bender – 20 for 20 Limited Edition
Begins shipping 05-13-2020
20 for 20 Custom Shop Limited Edition
3 Transistor Hybrid Fuzz
Silicon and Germanium Fuzz Stages
Huge Gyrator Bass and Treble Controls
Fuzz Bender – 20 for 20 Custom Shop Limited Edition
Note: Due to the current COVID situation, we will begin shipping 05-13-2020.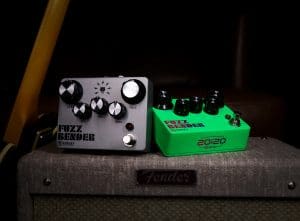 Our most bombastic fuzz ever is now available in two beautiful 20 for 20 colorways. Choose from Silver Rocket or Green Slime finish, both with 20 for 20 Keeley Custom Shop insignia. Each color is limited to 20 pedals, so be sure to pick up your favorite before they're gone forever!
The Keeley Fuzz Bender is a 5 knob – 3 transistor modern fuzz using a combination of high-gain silicon and silky smooth germanium.  What makes fuzz better?  Active EQ.  Using two gyrators as an active EQ gives you the ability to create massive fuzz tones not possible with typical square-wave boxes.  Pummel your amp with over 20dB of boost/cut at 100Hz and 10K Hz.  The Fuzz Bender is built around vintage Japanese germanium to create its monumental fuzz tones.  With the all new Bias Control, you control the attack and decay of your notes.  Anything from Fat Square Waves to Angular Fuzz to glitchy-Velcro attacks are possible with the Bias Control.  The Fuzz Bender's five knobs confirm size matters when creating a new and epic world of fuzz.
Silver Rocket – Matte clear coat over a raw metal enclosure with black graphics: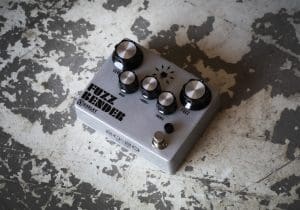 Slime Green – Vibrant gloss green with pink, purple, and blue graphics: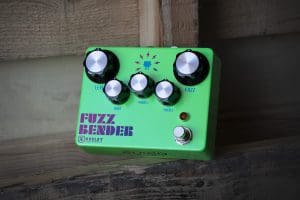 Five Knob Hybrid Fuzz with Japanese Germanium Transistor
Ginormous Level and Fuzz controls you can move with your feet!
Gyrator Bass and Treble controls with 20 dB boost each!
Bias Control for glitchy-velcro attack
Great for guitar AND bass!
Simple in/out top mounted jacks, true bypass
9 volt DC, 20mA power jack, no battery
Designed and Made in the USA
$149