Keeley Artist Series Effect Pedal – Larry 'Ler' LaLonde Le Bubble Tron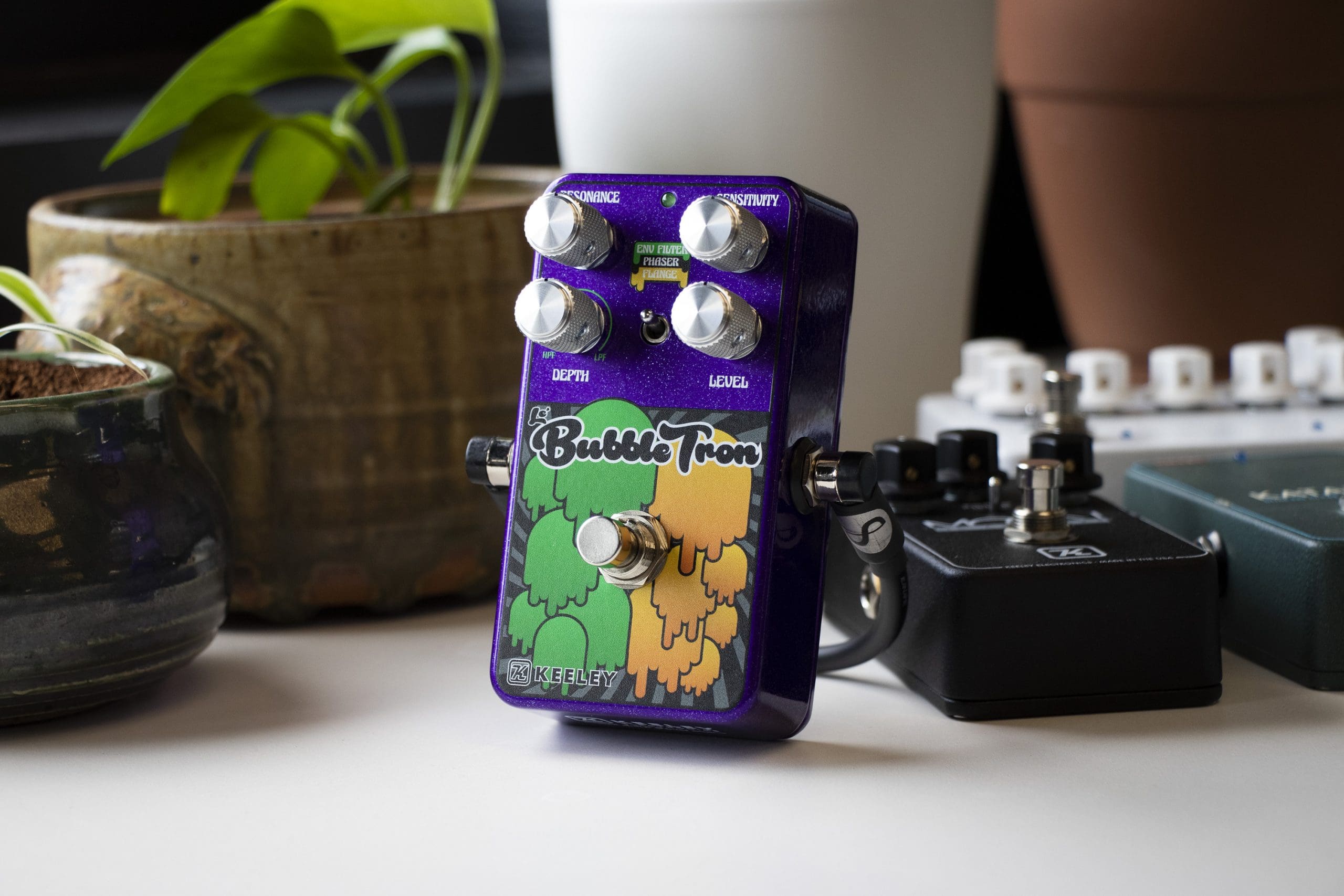 Ler Bubble Tron
Ler started using the Bubble Tron in 2016 after we released it, and it's remained his favorite effect for all these years.  These Zappaesque filters are like neo-vintage effects; old sounds that never really were, until now.  I think that's why artists like Ler LaLonde enjoy this pedal so much.  The endlessly random way the Bubble Tron responds to your playing, results in constantly unique and creative tones.  The new Ler Bubble Tron has three main filter sounds: Envelope Filter, Envelope Flanger, & Envelope Phaser, each one dynamic with your pick attack.
Purple, Orange, and Green pretty much describe the tones you can get from the Bubble Tron.  However, what makes this Ler Bubble Tron unique is that the Envelope Filter sound effect, previously only available if you move the DIP switches around inside the pedal, is now available on the front control panel.  As a result of that modification, the Envelope (Lervelope) Filter is now on the top of the pedal.  The Filter Sample/Hold effect is now on Bank B (in the dungeon of despair).  Knurled aluminum knobs allow you to dial in all of the dynamic envelope and flange-phasery gooiness.  Above all else, this pedal sucks!  It's like an extension of your mind and fingers.  It's 420 candy for your ears.
A Trilogy Of Tone Modes
LervelopeFilter –
The Bubble Tron's envelope filter has a super smooth filter sound that follows your playing to give you a tonal push.  The Resonance Control is your Q control, it sets the quality or resonance of the filter, it can be narrow and pointed at a certain frequency, or it can be more broad and offer a wide push of frequencies.  The Depth Control gives you a range from High Pass sounds to Low Pass filter tones.  The Sensitivity Control is set according to your guitar's pickups and output strength.  Dial this in as you play notes, listen for how the filter opens up based on your pick attack.  This envelope filter is characterized by a very slow release time.
DynaMoPhase –
This section of the Bubble Tron is actually two phasers.  One has an LFO that you set the speed of with the Rate Control (while it's depth is dynamically controlled) and the other is a true Dynamic Phaser.  It starts and stops based on your pick attack.  Again, you can set the Depth and and Sensitivity of this phaser to give you a very watery sound that is all based on your guitar's signal.  You can turn off the standard phaser and just run it DynaPhase by turning the Rate Control off.
DynaFlanger –
This section of the pedal draws on inspiration from the MicMix DynaFlanger.  This incredible piece of gear was used by FZ to create many of the sounds in the late 70s to mid 80s where a dynamic flanger was used in his solos.  A dynamic flanger is one that starts and stops based on your pick strength or attack.  The Bubble Tron uses your playing to start and stop the flanger.  Most flangers have an LFO that you can hear swooshing in the background.  The Bubble Tron doesn't use a conventional oscillator and as a result you don't hear the LFO.  Many flangers offer only positive or negative feedback.  This one allows you to try either with the FDBK Control.  The negative feedback sounds more vocal like and hollow to my ears while the positive feedback is more conventional and has a thicker, smoother sound.  The Sensitivity Control allows you to set how delicately you want to play and have the flanger go fully crazy on you.  The Depth Control is just that, how deep you want the flanging to be.
"It's still the greatest pedal ever made!" – Ler on the Bubble Tron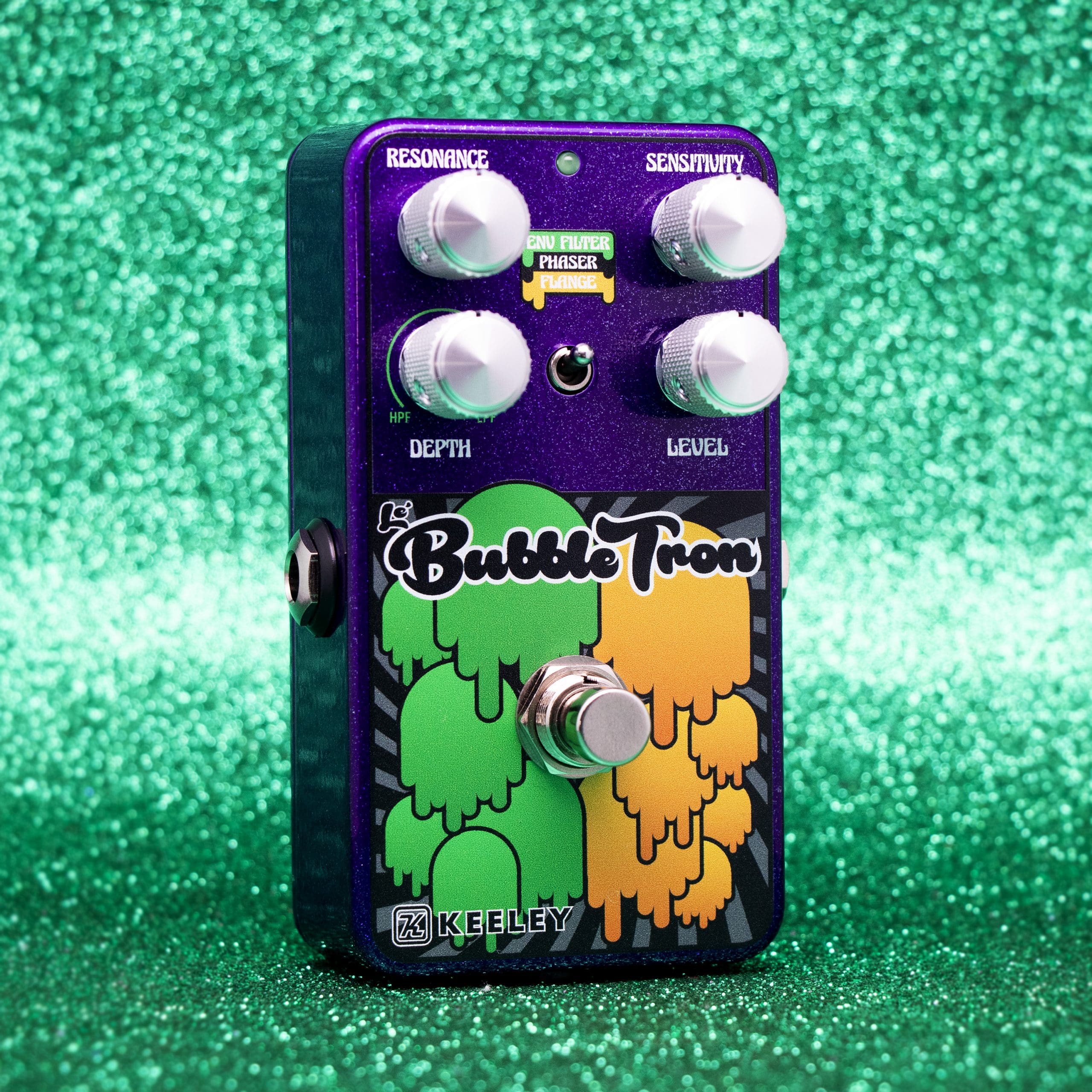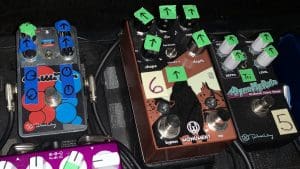 Ler's Keeley Bubble Tron and DynoMyRoto and the Walrus Audio Monument.
About Ler LaLonde:
Larry "Ler" Lalonde is the guitarist of Primus, and is known for his highly technical and experimental accompaniment to the bass playing of bandmate Les Claypool. Previously, he played guitar for the groups Possessed, Blind Illusion, No Forcefield, and the Frank Zappa tribute band "Caca". He collaborated more recently with artists such as Serj Tankian and Tom Waits.  Currently Primus is on their Farwell To Kings Tour – which I saw in OKC on opening night and it was amazing.  Ler uses the Bubble Tron all over the new Primus track, you can listen here on YouTube to Conspiranoia.
The Bubble Tron Dynamic Envelope Flanger Phaser is designed and engineered by Aaron Tackett, Craighton Hale and Robert Keeley and is made in Oklahoma City, USA by hard-core pedal freaks. The dope as hell graphics are by creative director Robby Harris.
Demo Videos
Instructions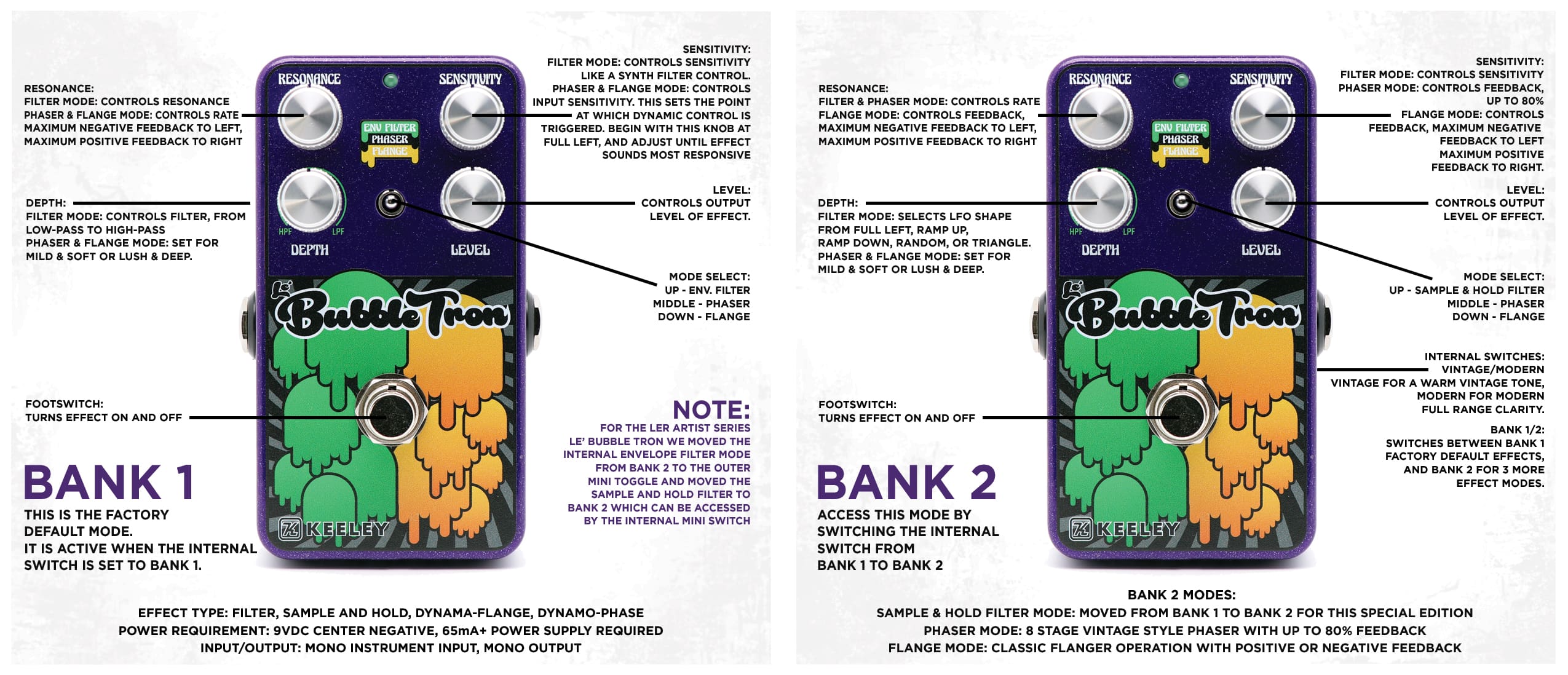 Guide to External / Internal Toggle Switches – Standard Bubble Tron vs. Le' Bubble Tron