Neutrino Envelope Filter V2 Custom Shop Nebula Edition
Our best sounding Envelope Filter EVER – Now in a past-meets-future 'Nebula' Custom Shop colorway!
The Keeley Neutrino Envelope Filter V2 Custom Shop Nebula Edition is an amazingly toneful and compact form of the classic opto-coupler envelope filter. The Neutrino takes your guitar playing and creates an automatic wah sound based on your pick attack! Envelope filters or auto-wahs as they are often called, sound and react best when they are opto-coupler based. The opto-couplers used in the Neutrino are particularly smooth, giving you an amazing vowel-like tone. The Keeley Neutrino gives you 3 filter ranges, 2 directions,  2 ranges for the frequency center and a Peak control. Keeley has engineered a power supply voltage-doubler so you maintain the highest headroom for your tone.  An incredibly tough build means it will last for many decades to come. Whether you're in a jam band or playing funk, the Keeley Neutrino V2 delivers incredible vocal-like tone.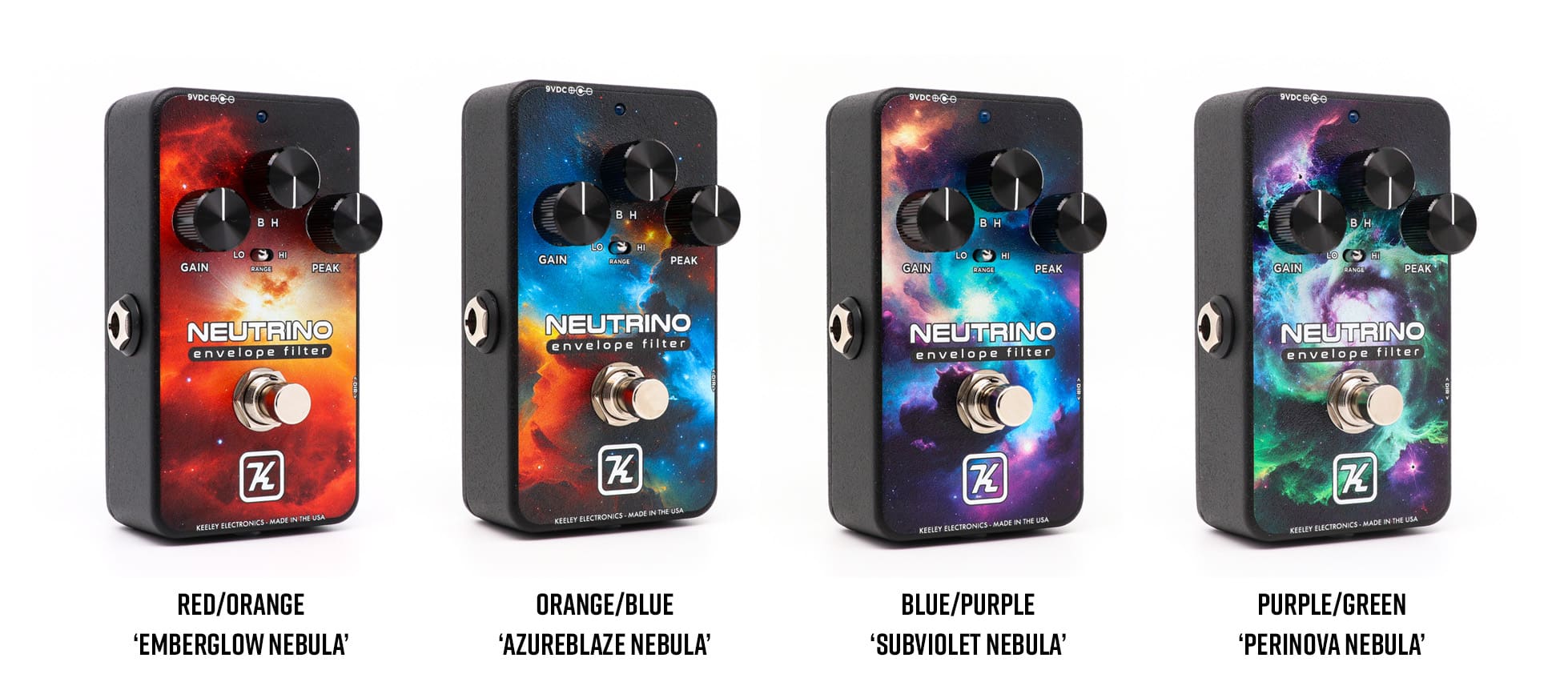 The Keeley Neutrino V2 features:
Envelope Filter and Auto-Wah for guitar, bass and keyboard
Peak Control: Sets how much "quack" there is, or how smooth you roll
Filter Selector: lets you choose between 3 types of filters: High,  Low, and Band Pass.
Range Switch: HI or LO.
Direction Switch: Up or Down
True-Bypass, 9 VDC, 25 mA, 100% analog and made in the USA.
The story of the Neutrino Envelope Filter V2 Custom Shop Nebula Edition:
We launched the Neutrino V1 Nebula Edition back in 2014, to celebrate our 13th anniversary. Much has changed since then (including the Neutrino itself), so we decided to revisit the concept with a modern twist.. We used Artificial Intelligence to help lay the groundwork for the V2 Nebula Edition by creating colorful bursts and swirls of astronomical proportions, then merged them with the human appointments of graphic design. The result is 4 unique, eye catching designs Keeley has become known for. It's a match made in the cosmos!
Limited Edition Custom Shop Run – Only 12 of each design are available!
Instructions