We are proud to present the Keeley Artist Series, a new line of Custom Shop takes on our favorite Keeley pedals!
Each of the Artist Series pedals will feature artwork from their associated artists, as well as an Artist Series bottom print.
A portion of the sales of the Artist Series will go towards the associated artists.
Begins shipping on or before 03-22-2022.
Here's your first chance to get a Pedal Partners Realizer Reverberator in 2022!

Realizer Reverberator – Pedal Partners Artist Series Edition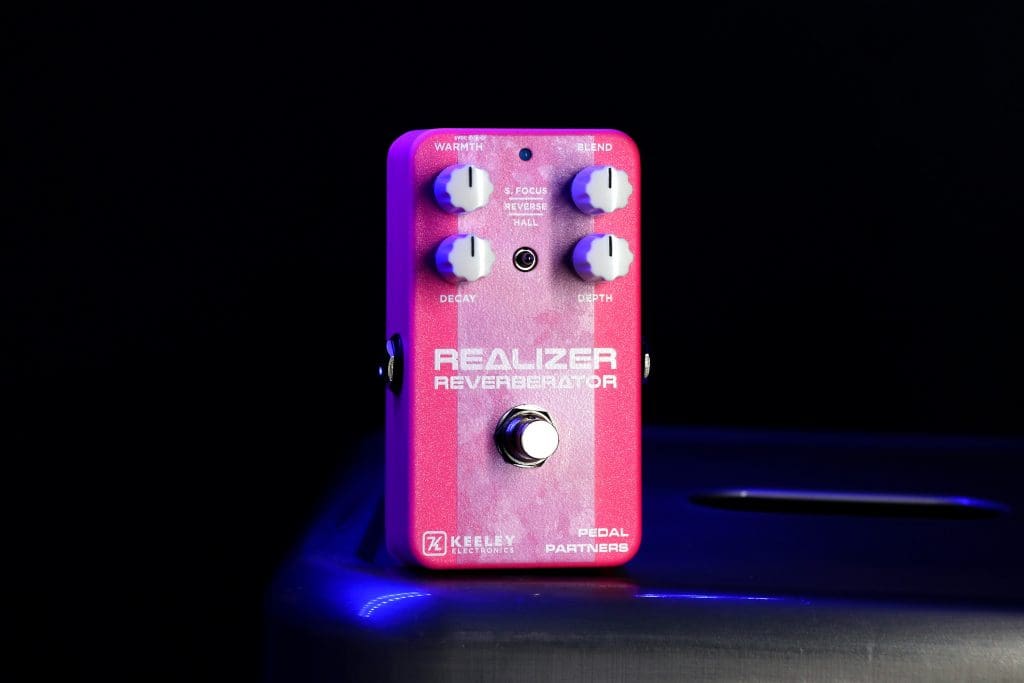 Realizer Reverberator in a Shimmery Metallic Pink colorway!
The Realizer is a new spatial offering from Keeley Electronics. Based on the left side of the Loomer Workstation, the Realizer is the perfect reverb pedal for shoegaze and ambient guitarists who have already found their perfect fuzz tone.
This Artist Series Realizer is finished in a matte sparkle pink enclosure with gloss white knobs. Featuring art by Luca from Pedal Partners, the Realizer looks as dreamy as it sounds. Grab your favorite offset guitar, kick on the Realizer and take a dive into the hazy, atmospheric sounds that you've always dreamed of.
---

The Keeley Realizer offers 3 distinct reverb modes:
Soft Focus – A lush, surreal recreation of the popular Soft Focus patch from the Yamaha FX500 multi effects processor, a late 80's rack unit that was used to achieve many signature delay and modulation effects used in the early 90's. Adjusting the DECAY control changes both decay time of the reverb and feedback for the dual delay. DEPTH controls depth of all 4 chorus voices.
Reverse (Reverse Reverb) – Inspired by the two most popular rack mount reverb effects of the 80's and 90's, the Yamaga SPX90 and the Alesis Midiverb II. DECAY switches between 8 different fixed delay times from a quick 150ms all the way up to a half second.
Reverse mode also features an envelope triggered vibrato that emulates the pitch bend from a Jazzmaster tremolo bar. Change the DEPTH control will set how deep the 'term bar' is pushed. The WARMTH control in this mode is designed to work like the Jazzmaster rhythm pickup tone control.
Hall (Hall Reverb with Ascending Shimmer) – Hall reverb with an octave up. The output of the reverb is fed into an octave up which then feeds back in to the input of the reverb, creating an infinitely ascending octave feedback loop. The DEPTH control will change how noticeable this pitch effect is.
Pedal Partners on the Realizer Reverberator:
"I was first introduced to the Realizer from it being the left side of the Loomer which has come with me on my Shoegaze journey that is Pedal Partners on YouTube. What's great about the Realizer is that it offers three distinct Shoegaze reverbs in one pedalboard friendly enclosure. These reverbs are some of my favourite I've heard, from a reverse reverb that puts that Shoegaze vibrato swirl inside a pedal (great for those who don't have a vibrato arm on their guitar) to Ambient modulations perfect for reflection. Pair this pedal with your favourite distortion, fuzz or other Shoegaze box for sonic bliss. The pedal's artwork is a physical representation of the distinctive Pedal Partners visual style, which itself is grounded in nostalgia & etherealism." – Luca, Pedal Partners
About Pedal Partners:
"As a musician & artist, I created Pedal Partners with the intention to bring into the world a visual-audio experience that is equally unique as it is relatable. With the help of Paige & Becca, I love pairing my distinctive dreamy visual style with our favourite gear to bring you music films to entertain & inspire. It's the only way to go about it." – Luca, Pedal Partners
Pedal Partners first run Realizer video:
Pedal Partners second run Realizer video:
Pedal Partners Explains Reverse Reverb:
Pedal Partners shows us How to Shoegaze:
Manual: