Sweet Spot Johnny Hiland Super Drive Overdrive – Batch 2
Johnny Hiland Signature Overdrive
2nd Batch in Silver Sparkle
The perfect touch-sensitive overdrive
Country, Rock, Blues, and more
Two modes for maximum flexibility
New from Keeley Electronics! The Sweet Spot Johnny Hiland Signature Super Drive Overdrive – Batch 2!
Our first run of Sweet Spot Super Drive pedals sold out in record time, so we decided to bring it back for a 2nd run in a limited edition, Custom Shop silver sparkle finish! The circuit, the sound, and the sweet spot are still the same, so if you didn't go for the gold, here's your chance to bring home the silver!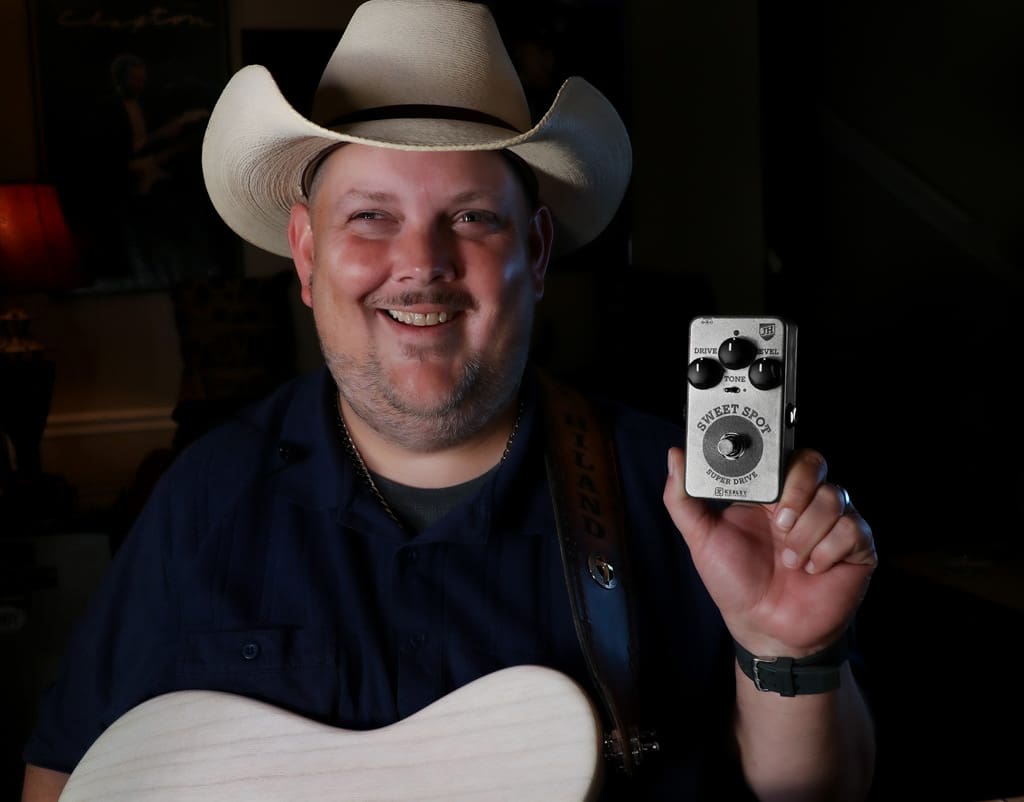 "The market today seems to be flooded with overdrive/distortion pedals. The Sweet Spot Super Drive offers its own sweet voice and character that separates it from all the rest. I feel that we made a sweet sounding overdrive pedal that offers versatility for those guitarists who love playing Telecasters. I would strongly encourage every guitar player to pick up their very own Sweet Spot Super Drive! I also want to thank Robert Keeley and his band of mad scientists for allowing me the opportunity to design this amazing signature pedal with them. I am truly honored and i am so proud of the tone this pedal will give you!" – Johnny Hiland

Johnny's Sweet Spot.
You don't get a chance to design an overdrive pedal for legendary guitar player Johnny Hiland very often.  When you get the opportunity to craft for such a legend, you provide them with a conduit to serve up the tone dripping from their fingers.  You want to set the midrange tone for clarity and definition.  You want to dish up a versatile range of drive that will do country, rock, and blues.  You want to season it with a slight amount of compression so that playing is effortless and smooth.  You make sure it provides full strength output; enough to fill any amplifier to full saturation.  You make sure Johnny smiles at you and shouts, "You hit the Sweet Spot boy!".
Johnny's Sweet Spot is that perfect blend between clean warm tones and overdrive, giving you singing sustain.   One of the many tone-secrets for reaching the sweet spot is to cut a little bass and boost the midrange a touch.  You also roll off a little of the high-end to avoid any harshness.  What you're left with is the recipe for the Sweet Spot.  A full course meal in tone – Johnny's Sweet Spot Super Drive!
Johnny's Sweet Spot Super Drive creates a tube-like response with an elegant JFET discrete transistor input.  Designed to work like tubes, if you push the Sweet Spot, it simply sounds better!  At the center of the design is the workhorse 4558 amplifier.  We have used this IC in many places where you want a smooth overdrive.  Diode selection around the op-amp is designed to give you an asymmetrical clipping that again, sounds like a tube amp!
The Tone control on something called the Sweet Spot has got to be special right?!  It's got to be like the time I ate biscuits and gravy and a heap of bacon with Johnny, and all cooked by his Aunt JoAnn…it's got to be mind blowing, tasty, and hugely satisfying!  The Sweet Spot features a tone control circuit that not only gives you full-strength country-coffee like highs, it reduces the load on your guitar's tone, letting it sing a little sweeter!  The midrange shines through and you get beautiful tones throughout the entire range of your guitar neck.
Johnny's Sweet Spot Super Drive gives you a lot of flexibility in setting a gain range.  With the gain toggle switch, you can get anything from light pre-amp clipping to organic, searing, power tube breakup.  Solo effortlessly with a pedal that nails compressed sustain. Set the tone for a sultry mix of high frequencies generated by the clippers and then set the level to push the front end of the next pedal or amplifier in your signal chain.  With Johnny's pedal, you're always in the Sweet Spot.
Super Drive Sweet Spots
• Natural tube amp like overdrive
• Versatile tone control for dialing in highs
• Gain switch for increased saturation
• True Bypass, Rugged Design and Build, Made in the U.S.A.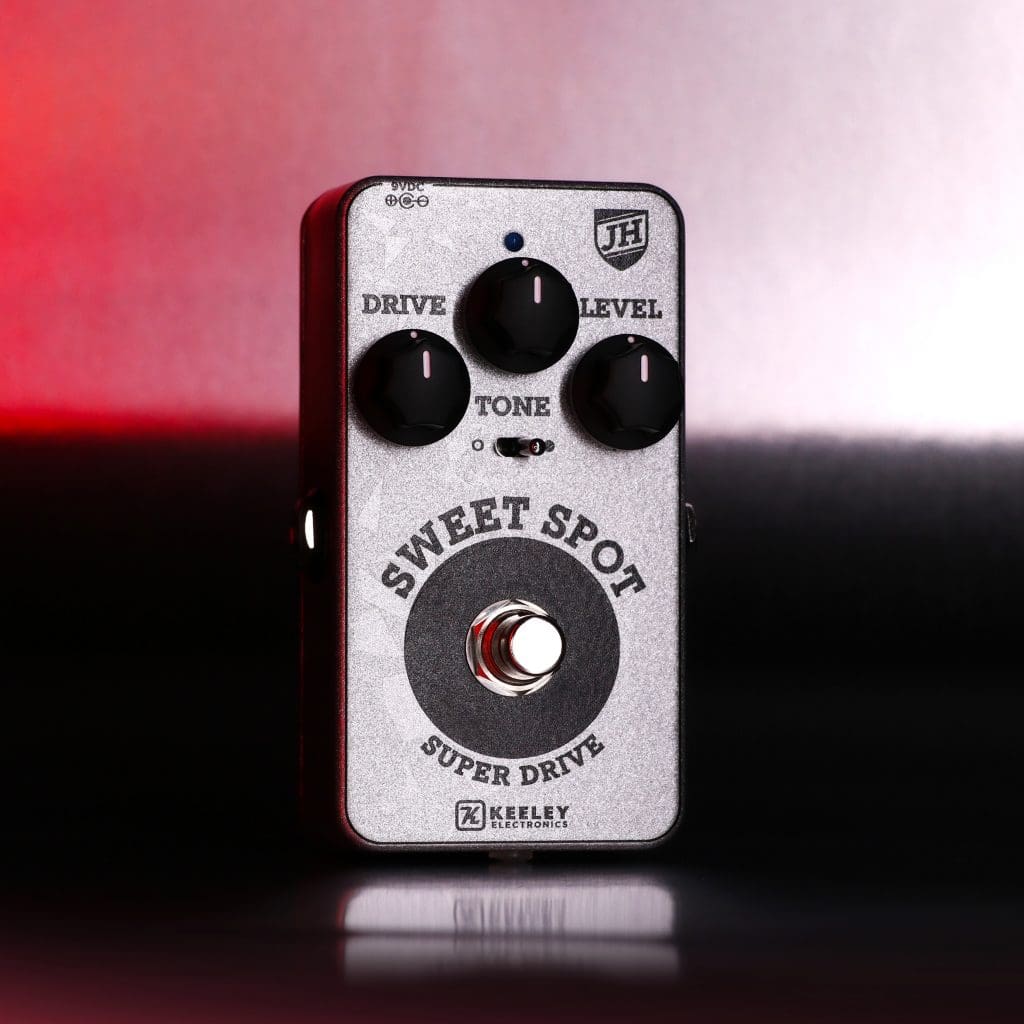 "I think the Keeley Johnny Hiland Sweet Spot Super Drive would suit any player in any genre. It is so versatile in every way! The knobs are self-explanatory but the switch is magical! The left side is more for tele style guys who rip country to rock! Flip the switch to the right and you will find a continuation in gain! Those players who love to rock out will love this pedal too! It has a sweet voice and character all of its own and will put a grin on every guitar players face!" – Johnny Hiland
Demo Videos:
Johnny Hiland
Mike Hermans
Be sure to check out Johnny Hiland online: