XIX Anniversary – NEW Katana Clean Boost
Begins Shipping 09-17-2020
XIX Anniversary Black Edition
Limited to 100
Our Best Katana EVER.
XIX Anniversary – NEW Keeley Katana Clean Boost
Our XIX Anniversary Pedals are now available, and will begin shipping September 17, 2020. Due to the current COVID situation, please allow us some extra time to safely build, test, and package these pedals. Your patience is greatly appreciated!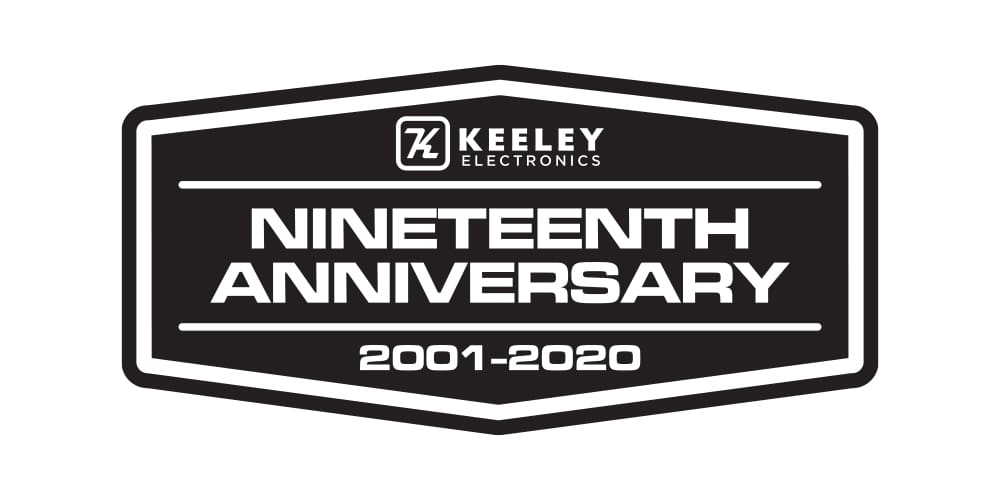 We are thrilled to be celebrating our 19th Anniversary, and to commemorate this event we're proud to announce three new offerings!
Introducing the XIX Anniversary NEW Keeley Katana Clean Boost, available for a limited time in a sleek black colorway.
Limited to 100 units.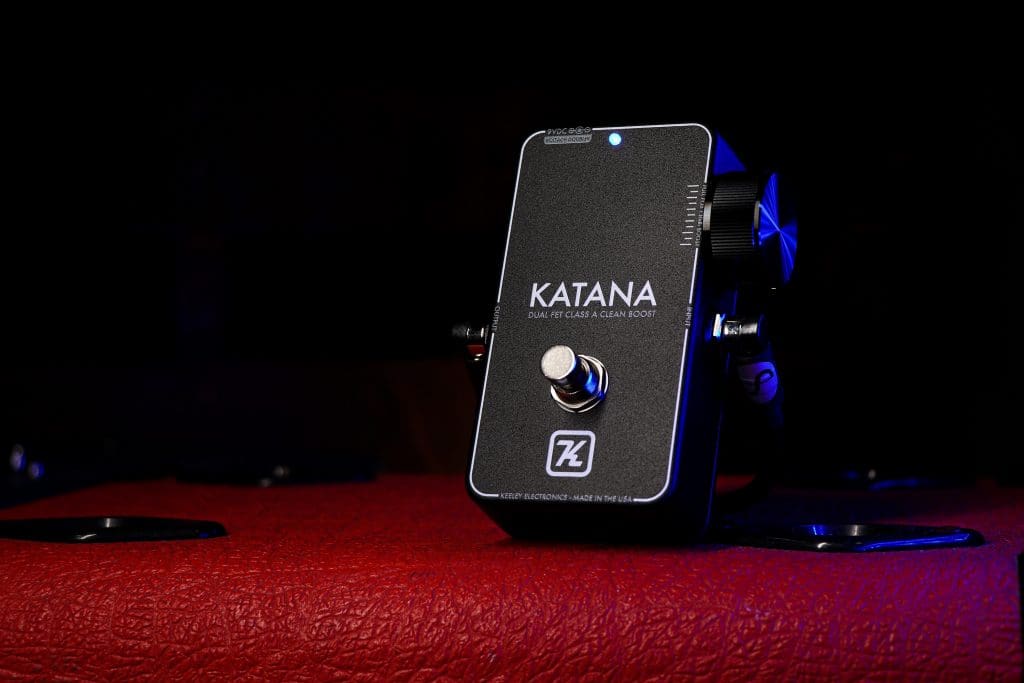 The ALL NEW – KATANA CLEAN BOOST!  Redesigned while going back to our roots.
Our Katana Clean Boost is back and better than ever!
We listened to what our players wanted and went back to our roots. The new Katana uses the original JFETs that made the original so special. We used the same component values from the original Katana, and updated the Boost mode to offer a more robust, clear sound, giving more clarity to bass notes when engaged. We updated the build with modern construction techniques to make this Katana the most dependable Clean Boost on the market, including an updated aluminium control knob, designed to be adjusted on the fly.
WANT A MIRROR IMAGE OF YOUR TONE, ONLY LOUDER? Roll the volume knob forward with your foot and you'll be good to go! NEED EVEN MORE? The Katana Boost is also a fat, harmonically rich boost, just pull out on the volume knob and push the limits with overdriven tone! You can keep it on all the time to push your amp harder, or as an occasional boost to cut through the mix.
The Katana circuit is Robert Keeley's first guitar effect design for Keeley Electronics. It was originally designed as part of the Time Machine Boost, but then became an independent product under the Keeley name after the release of the original Keeley Compressor.
WE ARE PROUD TO OFFER YOU THE BEST KATANA EVER.
Two modes, Pure Clean and High Gain
1. With the speed knob Pushed In, think of it as a volume control that goes to 20.
2. With the speed knob Pulled Out, it's a cutting boost with a bit of gain. Not quite an overdrive, just overdriven tube grit and edge to your tone.
Dual FETs for the most tube like tone in a transistor design. Power Doubling on the inside so you put 9VDC in, and we use a charge pump to nearly double operating voltage! (Caution – 9 Volt DC Maximum Input Voltage (don't try to put 18 volts to the unit hoping that the doubler will make it 36VDC!)
What do higher power supply voltage rails mean?! -> SUPER CLEAN HIGH-HEADROOM BOOST! Pull the Level knob out to switch -> Tube-like gain! THE EDGE!!!!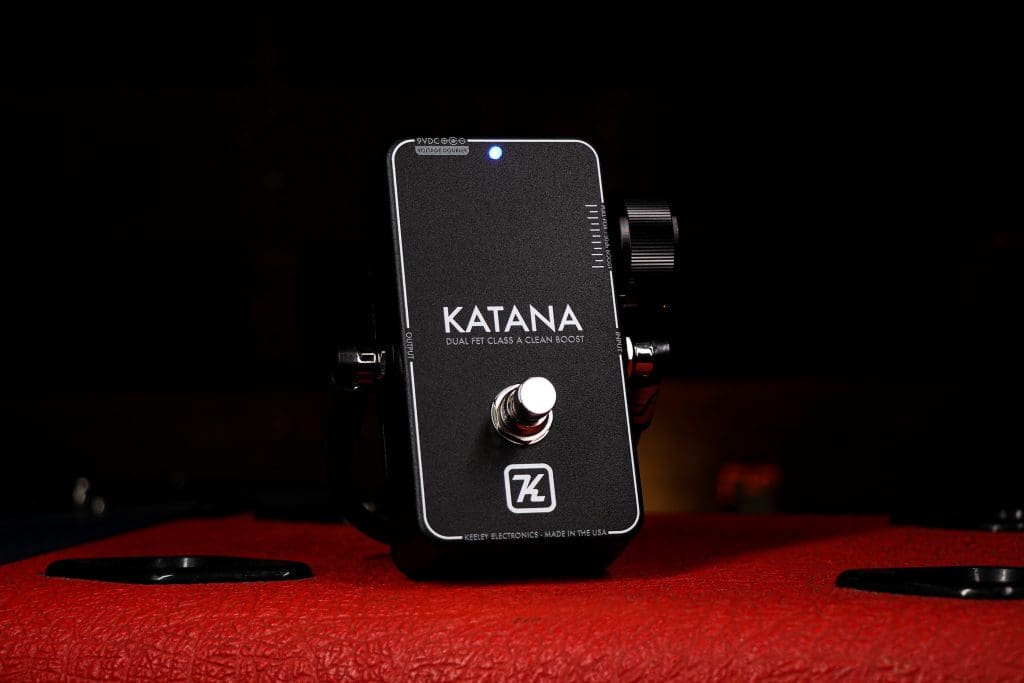 Be sure to read about all of the XIX Anniversary Pedals, available exclusively at RKFX.com!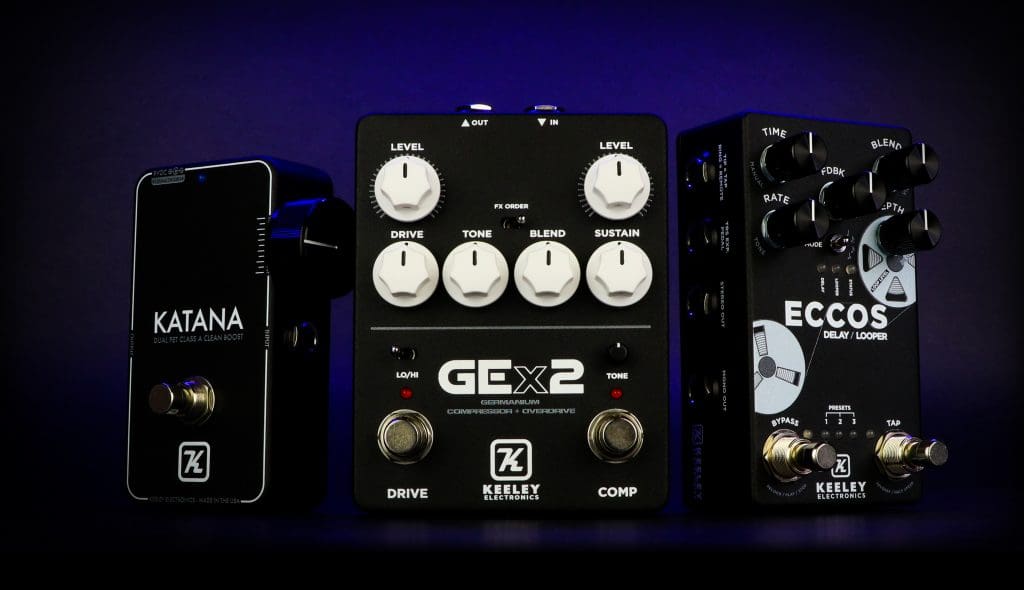 Instructions: